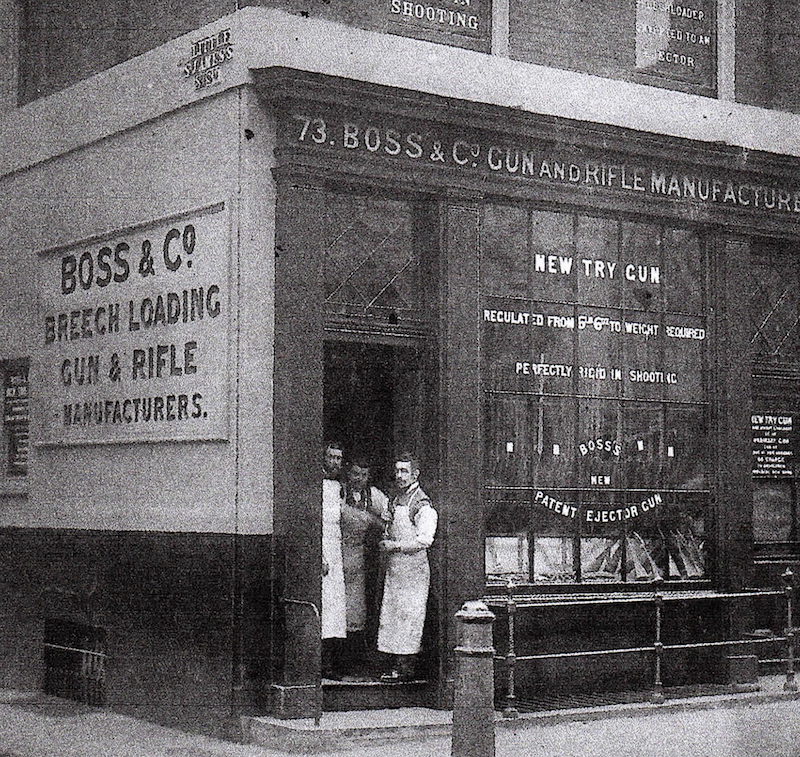 The address that Boss & Co is synonymous with is 73 St James's Street in London as the firm not only had their shop there for most of the 19th century, but also built their guns on the premises as well.
Boss & Co moved to St James's Street in 1837 and remained there for the rest of the 19th century until they had to vacate the building on the 1st July 1908 due to the termination of the lease.
Thomas Boss had set up on his own in the 1820s moving through various changes of address until he settled at 76 St James's Street in 1837 and then two years later in 1839 moved along the street to the well-known address, 73 St James's Street.
Thomas Boss and his wife lived above the shop whilst the entire building from basement to garret housed the gunmakers building the guns. A large window facing the street in the customary style of many small panes of glass displayed the guns, to the left was the door through which you entered the shop and to the right the door that led upstairs. All the guns were built in these premises with about ten gunmakers being employed, this being the case right up until the time Boss had to vacate the shop in 1908.
There were very good reasons why Thomas Boss wanted to be resident in St James's Street as it was an ideal location for a gunmakers shop in this period. St James's Street was originally famous for its chocolate house and clubs which had made it, for a great many years, along with Pall Mall, the social rendezvous of masculine aristocratic society in London.
St James's Street thus became a centre of fashionable trade rather than fashionable residence. It was at the centre of the London clubs, Whites, Brooks, Boodles and the Conservative Club, the perfect clientele for Boss guns. The proximity of these clubs was important to the Boss business, the names of these clubs featuring regularly in the Boss Order Books as they were just a stone's throw from Boss at number 73.
When Boss moved to the street in the 1830s, St James's Street was a mixture of clubs and exclusive shops most with "By Royal Appointment" signs. Several other gunmakers were also attracted to its location as such an exclusive environment meant that they were in a prime location to attract wealthy patrons. Advertising as we know it today hardly existed, hence the right shop in the right area was important to attract good business.
After the termination of the lease in 1908, the building was knocked down and replaced by a grand far bigger Edwardian building. This building still exists today but don't go looking for Boss guns, a glass of wine or a cocktail is all that is on offer.