Boss & Co is known for its pioneering spirit and inventive nature. During our history Boss & Co has filed many patents and launched many firsts to market. This section details some of our finest achievements that have gone on to change the world of sporting guns and have often been copied, but never bettered.
The Boss Ejector
Robertson added grace, shape and form to Boss & Co guns, and that beauty came with no loss of reliability. He desired a blend of form and function where beauty could be added without any compromise to mechanical integrity. He talked of streamlining, and with that he concentrated his efforts into creating guns with grace and pace.
This desire for visual appeal led to him designing the Boss Hammerless Ejector in 1897 which has been in continuous production, virtually unaltered, since that day. The Hammerless Ejector, while taking years to perfect, is actually very simple in its operation. It has an ability to expel unfired cartridges further than any other gun and helps with the opening (when unfired). When the gun has been fired the Boss Ejector pushes cartridges out by some distance, using its ejector spring, whereas other guns rely on leverage only.
"The great virtue of the Boss Ejector of 1897 is its simplicity, its ability to withdraw unfired cartridges considerably further than in any other gun." Donald Dallas – Gun author.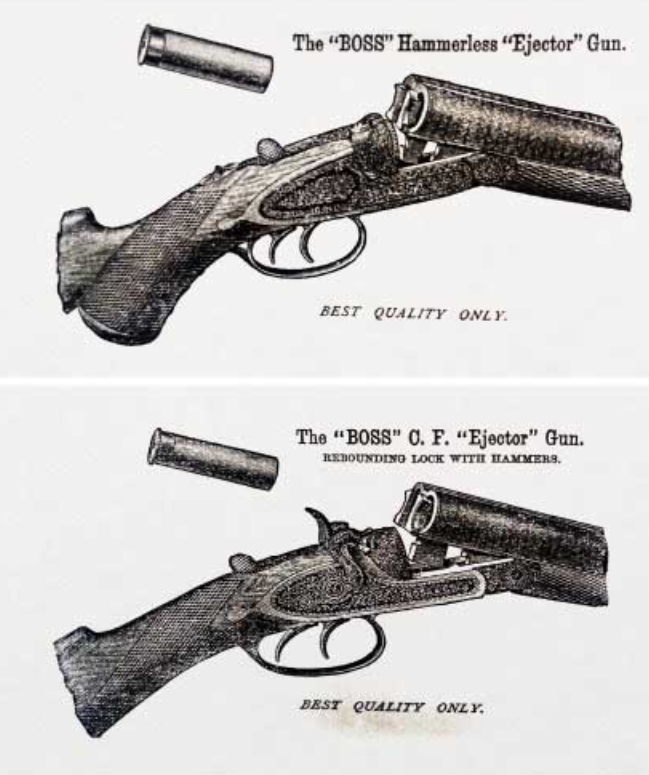 Designed well over 100 years ago, the Boss Ejector utilises a simple and extremely effective mechanism that delivers 100% of a coilsprings potential energy. That energy is delivered, in a straight line, along the barrels and onto the extractor to expel a cartridge. It is a compact, refined and lightweight solution that ensures no excess wood is removed in order to accommodate it. The slim design of the ejector led Boss & Co to be known as the racehorse of best guns, their sleek appearance having similarity to the lines of a muscular thoroughbred horse.
The result is not only a gun of great looks, but the operation is seamless and accurate as the system controls the ejection of cartridges from the chamber ensuring a swift reload and ease of use. The Boss Ejector is fitted to each and every Boss & Co gun built today, allowing the owner to experience a genuine piece of gunmaking history.